Welcome to Pepagora.com, Join FreeSign In

RPV Exports
Coconut Copra
Product Range
Fact Sheet
Location:

Tamil Nadu, India

Business Type:

Exporter

Main Products:

Cavendish Banana,Indian Coconut,Spices and Herbals,Duck and Chi

Reviews & Rating:

Be the first to review
Get Verified, Sell more with
Buyer's trust
Faster conversions
Better Rankings
More
Its Free
Verify Now
Coconut Copra

Be the first to review
In Erode, we are the leading suppliers of coconut copra. The copra is extracted from 100% pure, dried coconuts. Copra is the white fleshy part of the coconut that has been dried. We dry the copra to specific moisture levels.
Payment Terms

T/T,Irrevocable L/C,70% Adv & Balance 30% after Bl Scan Copy
Request for Quote
Product Details
Coconut Copra

5% max

Broken, Wrinkled or Germinated Cups

1% max

Nil

2% max

69% min

0.3% max

Nil

Tamil Nadu

Fresh

Round

Dried

Hygienically processed
Other Details
We are engaged in supplying dried coconut in India and abroad. Copra is dried in the sun or dried using special copra dryers and is available to our esteemed customers at following Forms and they are Corp able food,Milling Copra,Ball Copra.The Characteristics of our coconut copra includes such as Hygienic treatment,Adulteration free,Reasonable prices,Natural and fresh.We offer copra in three varieties such as edible copra, ball copra and mill copra. It is hygienically process and is available at industry competitive prices.
Copra is then processed in many ways to extract coconut oil. Several processes such as the Wet mill method, the cold pressing method and the boiling method are used to extract the oil. The cold press method is highly recommended for the commercial manufacture of high quality organic virgin coconut oil. Several young coconut suppliers also sell copra in bulk which can be used to extract coconut oil.
Usage:
(1) Dry coconut (or) Edible Corp able is usually a perfect, well-cured half-cup of coconut core and is used in various food preparations as well as a tasty nut.
(2) Milling Copra consists of dried non-uniform coconut pieces which are used mainly for the manufacture of coconut oil.
(3) Ball Copra is generally a perfect, well-dried whole coconut kernel and is used in various food preparations as well as a delicious nut.
| | | |
| --- | --- | --- |
| Parameters | Edible Copra | Milling Copra |
| Moisture | 5% max | 5% max |
| Broken, Wrinkled or Germinated Cups | 1% max | - |
| Mouldy Cups | Nil | 2% max |
| Discoloured | 2% max | - |
| Oil Content | 69% min | 69% min |
| Free Fatty Acid | 0.3% max | 0.3% |
Images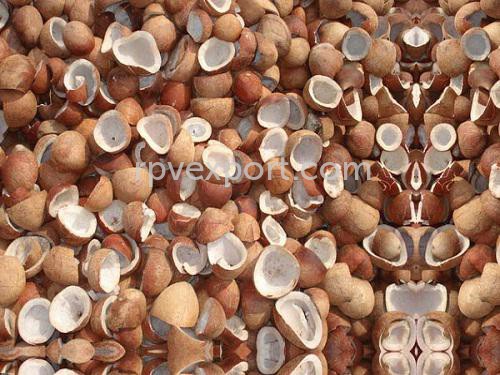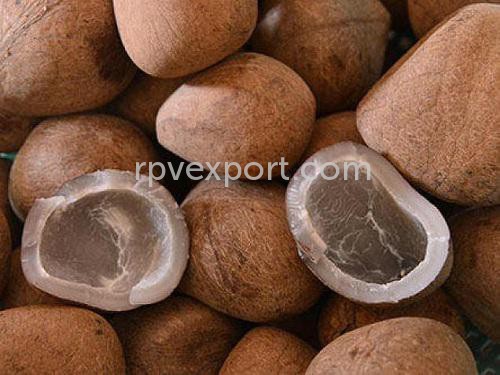 More Products