FOB Price:
Minimum Order Quantity:

1 Unit
Payment Terms:

Not mentioned
Business Type:

Manufacturer, Distributor / Wholesaler, Exporter
Request for Quote
Product manufactured In:

India
Technical Specifications
Type of Slat Expander Roll available:
v Aluminum Slat Expander
v Slat Expander Roll with Wooden Slat
Diameter of Slat Expander Roll available:
v 6-, 8-, 12-
Length: up to 3000 mm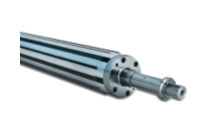 Slat Expander is particularly suitable for slow speed machines like coating cloth coating machines, Flat Bed Printing machine, artificial leather cloth before Batching machine etc. The Roll is fitted with cam mechanism fitted with on bearings with left & Right slats from center. For longer width three slats are fitted and middle slats are fixed to avoid V shaped wrinkle-removing action. Available with foot mounting pedestals.
Con-Pap-Tex is a Company Promoted by Experts & Technocrats having more than 30 Years of Experience in the Field of Flexible Printing & Packaging, Converting, Paper, Jute, Tarpaulins, HDPE Woven Sacks, Textile, Carpet, Leather, Technical Textile, Steel, Plywood & Laminates and Tyre-Cord Industry.
More details:View company website
Trade & Market
Main Markets:

Eastern Asia, South Asia, Southeast Asia
More Products from this Supplier
You might also be interested in