FOB Price:
Minimum Order Quantity:

1 Unit
Payment Terms:

Not mentioned
Business Type:

Manufacturer, Distributor / Wholesaler, Exporter
Request for Quote
Product manufactured In:

India
Technical Specifications
When web is having a very delicate layer, as in case of metalized, neither rubber expander roller nor Polyband expander are suitable for the purpose.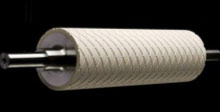 For such type of applications, rubber grooved spreader rollers are ideal. They are basically rubber roller having unique groove pattern on rubber surface. The cushioning and resonance of rubber grooved spreader rollers are achieved due to groove pattern, which makes these rollers capable of handling delicate films without any damage during wrinkle removing process.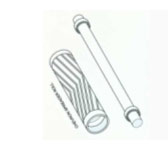 Rubber Grooved Spreader Roller is ideal in delicate film application, such as Metaliser, etc. A unique grooved has been done on rubber roller to enhance spreading effect without damaging delicate film. The cushioning and resonance are being achieved due to special technique grooving pattern.
Con-Pap-Tex is a Company Promoted by Experts & Technocrats having more than 30 Years of Experience in the Field of Flexible Printing & Packaging, Converting, Paper, Jute, Tarpaulins, HDPE Woven Sacks, Textile, Carpet, Leather, Technical Textile, Steel, Plywood & Laminates and Tyre-Cord Industry.
More details:View company website
Trade & Market
Main Markets:

Eastern Asia, South Asia, Southeast Asia
More Products from this Supplier
You might also be interested in